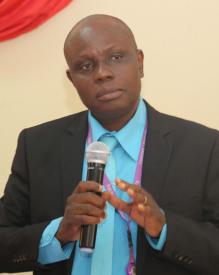 From the HOD's Desk
It has long been recognized and appreciated that the building process requires highly skilled labour to deliver quality product promptly. Hitherto this expectation is yet to be achieved and as a consequence the industry has suffered a number of setbacks – cost and time overrun, abandonment of building projects, building collapse, and premature decay of our environment. Therefore, of necessity, building most be handled by qualified professionals who are adequately and properly trained.
It is therefore my pleasure to welcome all and sundry to this great department, the birthplace of successful construction practioners. Department of Building, at the moment, offers a five year undergraduate programme in Building Technology leading to a Bachelor of Science degree. In the very near future, however, it is hoped that the undergraduate programme would have to be split and planned to take care of the increased specialization required for effective and increased participation of the various professionals in the construction industry.
The specialized areas of study include the following programmes:
(i) Management of Construction Projects
(ii) Building Structures and Construction Technology
(iii) Building Services Engineering
(iv) Building Maintenance
(v) Construction Economics
A Builder could be useful in the following areas of human endeavours: Construction Industry, Educational Institutes, Banks, Finance House, Insurance, Housing Corporation, Military Establishments, Oil Industry, the tree tiers of government and their agencies, etc.